Puppy Training Classes
We offer drop-in style puppy classes so you can start whenever you get your new puppy! We teach your puppy how to sit, how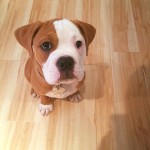 to lay down on cue, walk on loose leash, not jump on people, and lots of other great things. We will also help you with crate training, housebreaking, how to stop your puppy from biting and nippy, and socialization too! We use positive reinforcement training techniques – no threats, intimidation, or harsh corrections. Instead, we teach your puppy what "great" puppy behavior is, and then reward that great behavior! This makes training more fun for the puppy and lower stress (and work) for you! We also leave plenty of time in class for puppy parents to ask questions and get the help they need.
Puppy Classes – AKC S.T.A.R. Puppy Program
The AKC S.T.A.R. Puppy is a great new program designed to get people and their puppies off to a great start! The AKC S.T.A.R. Puppy Program is an incentive program for loving dog owners who have taken the time to take their puppies through a basic training class.
Pepper's Paws, LLC puppy training class will teach you how to communicate with  your puppy and your puppy will also have safe socialization and play time with other puppies. We also cover lots of puppy training topics including housetraining, chewing, and puppy life skills like how to come when called. AKC S.T.A.R. Puppy training is a great way to get started training your puppy and a natural lead in to the AKC® Canine Good Citizen® Program.
Visit http://www.akc.org/dog-owners/training/akc-star-puppy/ to learn more about the benefits and freebies you get when your puppy becomes a S.T.A.R. puppy!
Email Us to sign up for AKC S.T.A.R. Puppy Classes
Puppy classes are held at Dogtopia's beautiful state-of-the-art facility in Chester Springs.
The total cost of the class is $175 and meets 6 weeks in a row. Each class is 50 minutes long and kids are welcome to join their parents in class!
Puppies must be between 10 weeks and 4 months old and up to date on vaccinations (proof of vaccinations is require before starting class)