Pepper's Paws provides in home dog training at the Delaware beaches – Rehoboth, Lewes, Bethany and surrounding areas. We have extensive experience helping dogs adjust to their new homes, teaching dogs basic manners, and resolving nuisance behavior problems with dogs. Does your dog jump on you? Jump on guests? Knock the grandkids over? We can help with that. Do you have a barker? A digger? A dog that takes YOU for a walk? We know just how you feel – and we can help! Do you love your dog, but you aren't crazy about your dog's behavior? We get it! Pepper's Paws can help you be proud of the dog you love!
We know how it feels to be overwhelmed with a new puppy too! Many of our clients are retirees new to the area and have new puppies! They have had dogs in the past but this puppy feels like a lot more work than their last dog. Nope, you aren't imaging things – we can help you take control, get your puppy to listen, and make it feel like your puppy is NOT a full time job 🙂
We use positive reinforcement training methods – treats, praise, and life rewards will get the results you need with your dog.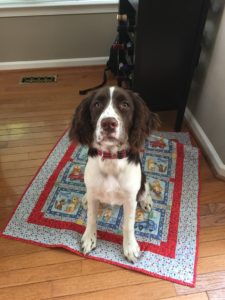 We specialize in helping newly adopted dogs adjust to their furever homes and helping dogs new to training to love it too!
Pepper's Paws offers AMAZING comprehensive packages that will make you proud of the dog you love! Click here for more info!
We also offer gift certificates for  in person  private lesson programs and Zoom programs too.
About Pepper's Paws Dog Training
Head trainer Deb Murray, is Certified Canine Behavior Consultant (CBCC-KA) and Certified Professional Dog Training (CPDT-KA) by the Certification Council of Professional Dog Trainers, a Fear Free Certified Trainer, an AKC Evaluator, and a Distinguished Graduate and past Mentor Trainer for the Catch Canine Academy, and a past Mentor for the Victoria Stillwell Dog Training Academy.