Halloween can be a time of costumes, candy, and fun and games for kids. For dogs? Not so much. For dogs, Halloween can mean scary looking people, people carrying strange things in their hands, the over-stimulating and sometimes over-whelming sounds of children's laughter and screams, and the ever-ringing door bell and lots of strange people visiting their home.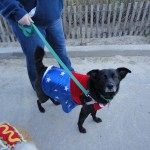 Unexpected surprises and sounds can rattle even the most socialized dog. So what is a good dog owner to do?
1. Take you dog for a nice long walk or training session – before the sun goes down and the Trick-or-Treaters come around. Or better yet – take your dog on a long walk that includes some basic manners training along the way. Have your dog Sit, Down, Stay, or do a hand touch at each mail box or driveway you come to. Mix up the rewards for the doing the behaviors too – sometimes a Sit gets a treat, sometimes some pettings, sometimes the reward is "Let's go!" and the walk continues. The goal is to mental tire your dog out while he/she is exercising – a great way to twice the bang for your dog walk buck!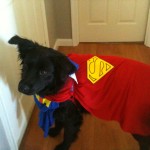 2. Arrange for your dog NOT to have access to the Treat-or-Treaters. Set up a secure area for your dog – a crate in a room far away from the door, behind a bedroom door, on a leash with a person in another room are all good options. To help your dog want to stay away from the excitement at the door, turn on the TV or radio for your dog and give him/her something yummy to chew on – a Kong stuffed with a yummy treat (Kongcompany.com has some great recipes!), a long-last dog treat, or a fun toy that your dog loves. The idea is to remove your dog from the action of Halloween and reward them for doing so!
3. Prevent Trick-or-Treaters from using the doorbell! Cover the doorbell and hang a sign saying "Please Knock – Doorbell Broken" – or plan to hang out outside your home during Trick-or-Treat time. Reducing this one excitement inducing sound can make the difference between your dog having a bad night or a great night!
4. Make sure your dog has ID tags on at all times around Halloween – if he/she does manage to slip out in all the commotion of Halloween, you have a better chance at having a swift reunion if your phone number is on your dog's collar.
5. If you insist on taking your dog out Trick-or-Treating (and by the way, we suggest you do not) don't take your dog to each house, have the dog holder wait on the street while the Trick-or-Treaters go door to door. This will keep everyone safer (imagine your dog's surprise is a scary monster answers a Trick-or-Treaters knock – it could be scary for all involved).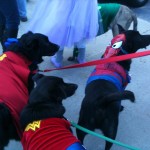 6. Remember Halloween costumes can be scary for dogs. When people don't look or sound like the dog expects (i.e. sans masks, carry fake swords, or walking like the Hunchback) – dogs don't know what to make of it – so he/she may bark, lunge, growl, jump, or all of the above at the costumed person. Wouldn't it be a better idea for your dog to think Halloween is just a day for him/her to get a great treat and some quiet time?
7. Halloween candy – in a word: NO. Chocolate, artful sweetness, and all the other goodness that ends up in Trick-or-Treat bags can spell trouble for dogs. Keep all candy, sweets, gum, and their wrappers away from dogs. Top of the fridge or in the hall closet are great places to store them (and it makes it harder for kiddies to over-indulge as well!)
Halloween is a fun time for kids and adults – let's make it fun for dogs to by following these 7 Ways to Keep Your Dog Safe on Halloween!
Happy Halloween!
Pepper's Paws, LLC provides in home dog training at the Delaware Beaches – Rehoboth, Lewes, Bethany and surrounding area in DE.
Head trainer Deb Murray, CPDT-KA is certified by the Certification Council of Professional Dog Trainers, an AKC Evaluator, a Distinguished Graduate and now Mentor Trainer of the Catch Canine Academy, and APDT C.L.A.S.S. Evaluator and Instructor.
PeppersPaws.com