Join Team Pepper's Paws for the American Cancer Society's Bark for Life event Oct 22!
The Pepper's Paws dog trainers and their families will be taking part in this year's American Cancer Society's Bark for Life 5K Run/walk and 1 Mile Fun Walk and we'd love for you and your dog to sign up to walk as part of our team and walk or run with us! We are passionate supporters of owner's walking their dogs with other dogs. In fact, we feel so passionately about this, we are one of the event's top sponsors!
Pepper's Paws trainers have hosted group walks for our clients and we have seen amazing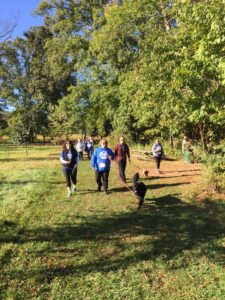 changes – in both dogs and their owners! Walking your dog with other dogs can help your dog to be calmer around other dogs, and, since every dog has a person at the end of the leash, group walks can also help your dog be more relaxed around strangers. Dogs who get daily walks – with or without other dogs – are more likely to have their physical and mental exercise needs met, which leads to calmer behavior in the home, less destructive behaviors, and, in some dogs, less anxiety as well. Interested in joining one of weekday group walks? Would a weekend walk work better for you? Let us know!
Top 10 Reasons to join Team Pepper's Paws for the American Cancer Society's Bark for Life on Oct 22 :
The event will have food trucks, vendor tables, and lots of great raffle baskets!
Lots of great vendors will be there too – make sure to them for info and free giveaways!
There will be fun things for kids to do!
Bark for Life T-shirts!
The event is held in East Goshen Township Park!
It is a great opportunity to get to know our trainers and pick our brains!
You and your dog may make friends to do your own group walks with!
The proceeds go to the American Cancer Society
Your dog will love it!
You will love it too! Seriously, there's just something fun about walking your dog with other dogs!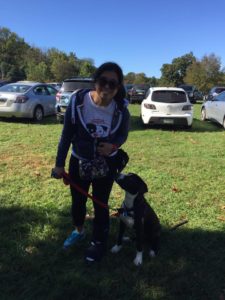 Please join us for this fun event to support a great dog rescue – they need our help to save dogs. Click here to sign up and join Team Pepper's Paws! A limited number of Team Pepper's Paws will be available for team members to purchase. Email us if you would like a shirt.