Pepper's Paws is proud to announce our new Remote Private Dog Training service! Does your dog ignore you? Not come when called? Jump on family members or guests? Remote private dog training lessons are great for these annoying behaviors, as also for more challenging things like separation anxiety, fear aggression, and dog-dog aggression. Have a new puppy? Remote Private Dog Training is excellent for puppy training too!
This is the only dog training service we offer for people who live outside of our service area. If you don't live in Chester County and have always wanted to work with Deb this is your chance to work with her!
Here is how the remote lessons work:
Lessons are conducted with you in your home and your trainer in her home. There will be no face to face contact or need to travel for the lessons.
Lessons will be 1 hour long each and conducted via Zoom (https://zoom.us) for video and audio. You will need a reliable internet connect for best results with Zoom. We recommend you connect to Zoom via a table, phone, or laptop so you can easily adjust the viewing field as we work on things. 
Lessons are $75 each, payable via PayPal (**this is the early adopter price offered to a limited audience — after the introductory offer remote lesson prices will increase – book now to lock in this great rate!)
You will receive a PayPal invoice at least 24 hours before your lesson and must remit via PayPal (PayPal accepts credit cards).
Clients who purchase 3 or more lessons we also receive access to our private Facebook group where we post free group walks for our clients and their dogs (once the social distancing recommendations are removed) and support via email/text for 3 months after we finish lessons.
During the lesson you will receive handouts for download via the Zoom platform. These handouts will guide your practice and homework between lessons. You are also welcome to take notes during the lesson. 
Ready to sign up for Remote Private Dog Training? Email Deb at info@pepperspaws.com or call 484-574-0618
We can't wait to work with you and your dog!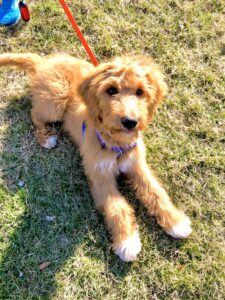 Want to learn about your Remote Private Dog Training trainer? Click here to learn more about Deb!
** Terms and conditions for this offer may change at any time.