Dogs with separation anxiety bark non-stop, soil their crates, try to break out of their crates, destroy furniture in the home, chew on windowsill, scratch at or destroy doors, or have accidents in the home. They drool or shake in their crates. Separation anxiety dogs may start to panic as soon as they realize they are about to be left alone. Some dogs do all of these things, some dogs only do some of them. Dogs who do this are not being naughty, they are panicking because being left alone is very scary – even terrifying – for them. Punishment does not solve their struggle. Training them to comfortable being left alone is the answer.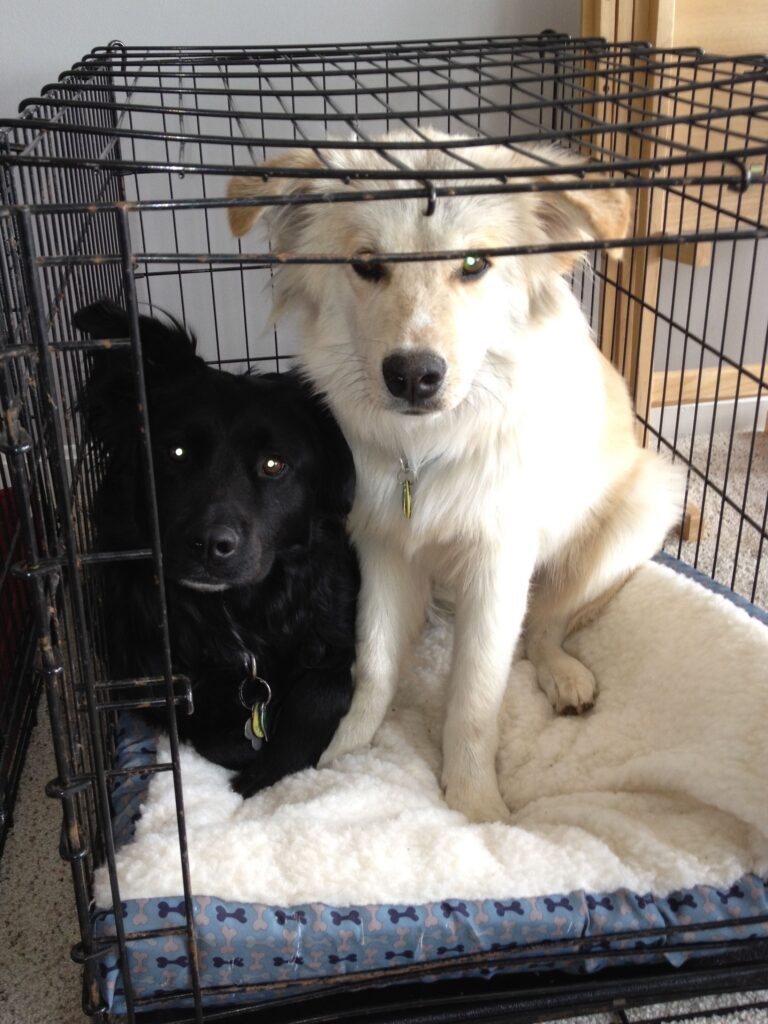 Separation Anxiety Training Program Focus
Training your dog to be comfortable alone is not easy, but it can be done. Separation training takes time, patience, diligence, consistency, and a plan. Separation training is a marathon, not a sprint. They key to resolving your dog's separation distress is to start to work on it when you can support your dog as much as needed. Don't wait to get started until you have to leave the house for full time work or school. Start now, when you have the flexibility and time to work on this. Our Separation Training Programs are offered as an in person training program or Zoom training program.
We offer 3 programs to help you dog learn to be comfortable when left alone.
Just the Basics Program
Separation Challenges Program
Intensive Separation Training Program
Number of lessons
1
4
8
Who it is for
Owners who aren't sure if their dog has separation distress.
Owners who want to learn the basics of how to work on it so they can work on their dogs mild separation distress on their own.
Dogs with moderate separation distress behaviors.
Owners who want to be guided through a structured program to help your dog to be comfortable alone.
Owners who want the accountability of working 1:1 with a trainer.
Dogs who cannot safely be left alone.
Owners who need have never had a dog before, or a dog that is severely afraid of being left alone.
Owners who want long term help, support, feedback, and guidance from a trainer to help their dog.
Included video reviews and feedback
1
4
12
Months of trainer-provided support post lessons
0
4
12
Lesson format
Zoom
Zoom or in person (additional fees apply)
Zoom or in person (additional fees apply)
Separation Anxiety Training – What's Included
One hour zoom lessons held during the day during week or on weekday evenings.
Handouts, training plan templates, supplemental information provided via email.
Individual coaching on video submissions. You will video your training sessions with your dog and Deb will review and offer coaching on them during your lesson.
Weekly check in's with Deb via email or FB on the weeks you do not have a lesson. This accountability to work with your dog can be a game changer for owners.
The program cost also includes support from Deb via email for 4-12 months post lessons (number of months of support depends on which program you choose. Additional support time may be purchased separately). You can also share training videos and receive coaching during your support time as well.
To be successful dog owners need:
Remote video capability and smart phone (Facetime, Zoom, nanny cam with app, etc.) or other video recorder (camcorder, security cam, etc.). Ring camera's are our recommended video camera. Click here for Amazon link to purchase the camera.
Timer with second hand (watch, egg timer, etc.).
Reliable Internet access.
Access to Excel, Google Sheets, or printer and paper (to keep training log that I will email to you after the first lesson).
YouTube/Google account (free) so Deb can review videos as they get longer/larger.
Access to Zoom website or app.
A commitment to helping your dog and willingness to do the work and record and log video sessions with your dog, and be open to feedback and suggestions, and to follow Deb's advice.
Frequently Asked Questions we will address in the workshop:
I don't crate my dog now. Do I have to?
Does my dog need meds?
How do I know if my dog has bad separation anxiety?
Where do I start to fix separation anxiety?
How will I know this is working?
What if I can't always be home?
What if my dog gets worse?
Why can't I just wait and see how he/she does when I have to go back to work?
What's the worst that can happen with this behavior?
How long will it take to completely resolve this behavior?
What if I finish the workshop and I need more help?
How do I watch my dog? What technology do I need?
Has this worked with other dogs?
What if I have a set back?
How do I sign up for the workshop? https://pepperspawsdogtraining-zoomlessons.as.me/?appointmentType=18721896
About Pepper's Paws Dog Training
Pepper's Paws, LLC provides in remote dog training for basic manners, behavior problems, and fear aggression in southern Delaware (Rehoboth, Lewes, Bethany and surrounding areas). We offer remote programs for dogs and owners who do not live in our service area. We can help with everything from Puppy Basics to Advanced Adult Dog Manners to Tricks and Fun! Make sure to check out our Success Stories and Google our reviews too!
Head trainer Deb Murray, is Certified Canine Behavior Consultant (CBCC-KA) and Certified Professional Dog Training (CPDT-KA) by the Certification Council of Professional Dog Trainers, a Fear Free Certified Trainer, an AKC Evaluator, and a Distinguished Graduate and Mentor Trainer for the Catch Canine Academy.
As an Amazon affiliate, I earn from qualifying purchases.