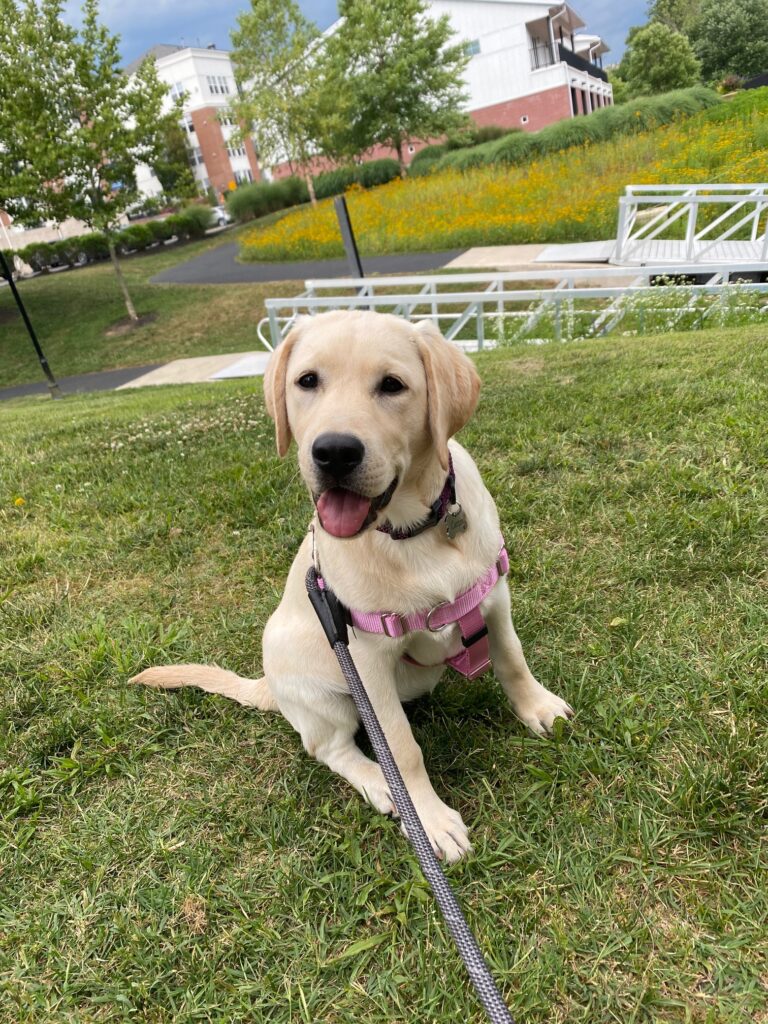 How can I socialize my dog during a pandemic? This is a question I have been asked almost every day since the COVID-19 pandemic began last March. Just because you can't be around other people doesn't mean you can't socialize your puppy. Socialize means showing your dog that new things are no big deal, or they are awesome! Sure, meeting dogs and people is an important aspect of socialization. But socialization isn't just about dogs and people. There are many categories of "new" that your puppy can safety be introduced to during social distancing.
Grooming
Grooming is important to dogs. It's even better when dog love grooming. Grooming includes brushing, bathing, and nail trims. Ear cleaning and eye cleaning are also grooming elements that puppies need to learn to be comfortable with. Patience with gentle restraint is also an important skill for young puppies to learn too. What is the best way to do these things with your puppy?
Brushing
When your puppy has had some exercise – so he is not loaded with pent up energy – is a great time to work on handing. Sit somewhere comfortable where you can securely hold your puppy. Your puppy can be on your lap or on the floor or on a piece of furniture.
Start with one aspect of handling to work on at a time. Say you start with brushing. Your puppy's brush should not snag or pull at his fur. We like to start with a soft, rubber bristled brush (click here to see an example: https://amzn.to/2JsuibK). Start in an area on your puppy's body that he likes to have petted. Back and shoulders are a good place to start. Gently brush your puppy following the grain or direction that the fur naturally goes. If your puppy doesn't seem to mind the touching – he doesn't pull away or try to bite the brush, continue. If he seems agitated, stop brushing for now.
Wait a day or so and then try brushing again. This time, show the dog your brush and then give him tasty treat. Repeat this a few times, then gently touch the dog with the brush and then give him the treat. Repeat this a few more times and then stop the session. Practice this over several short sessions over a few days. Your dog should be starting to associate the brush with food. This is what you want. Brushing = awesome! to your dog. Repeat this same process for brushing, teeth brushing, and handling.
Nail Trims
Nail trims are scary things for many puppies and adult dogs too. Start by showing your dog the clippers. Let her sniff the closed and locked clippers. Move the clippers toward your dog's feet and then treat. Repeat many times, gradually moving the clippers closer and closer to your puppy. Work up to touching the clipper to your dog's nails and then gently clipping the tip of your pup's nails. Gently tip your puppy's nails once per week and nail clipping will become no big deal to your dog.
Socializing Out & About
Think about your long term goals for your puppy. Do you want you dog to feel like he can say "hi" to every person and dog you see on a walk. Most people say no, this isn't really what they want. When they walk their dog, they want to walk – not constantly stop for every dog or person they see. COVID time is a great time to reach your dog that seeing people on walk – not greeting everyone he sees – is normal.
Socializing to your dog to people
To get your dog used to the idea that seeing people is normal, you need to take your dog some where she can see people at a distance. Let your pup sit and take in the scenery and watch people and dogs walk by. Walking trails near fields are a great place to do this. Have your puppy on leash 20-30 feet away from the trail (move further away if being this close it too exciting for your dog). As people pass on the trail, gently praise your dog for just watching. If your dog barks or gets excited, don't reprimand her. Move a little further back from the trail and let her get used to seeing people moving in the distance.
Socializing your dog to other dogs
This same technique can work for seeing dogs at a distance too. When your dog sees another dog and does not bark, praise and even treat your dog. You are essentially rewarding your dog for an absence of behavior (you are rewarding the "not barking"). The more dogs and people you dog sees, and the more he gets rewarded for NOT interacting with them, the more this behavior will become your dog's normal or default behavior. When the COVID social distancing requirements are lifted and your dog is around more people, he will have developed a habit of not barking at people at a distance and you can then work on seeing and passing people at closer distances.
Socializing to New Experiences
What are three things you want to be able to with your dog in 3-6 months? Where are 5 places you want to be able to take your dog in 6 months? Just because these places or businesses are closed now doesn't mean you can't still visit many of them.
Have a favorite outdoor cafe you want to take your dog to this spring? Stop by now for a visit! It will likely be lesson crowded now than usual. It won't be as exciting, because you may be the only ones there. This is a great time to get your dog used to going! Walk by the area, or sit for a few minutes at a table with your dog if you can. Stop by every few days and let your dog explore the outdoor area. By doing this, the first time you take him there in the spring, it won't be nearly as big of new, big deal because he will have already been there many times with you.
Car Rides
Do you want your dog to love care rides? Now is the time to start taking your puppy on short car rides that end in fun! Short trips to the mailbox, down the street, or to the next street over followed by a short walk in a new area is great for dogs. Short car rides help dogs get used to riding in the car. By adding a walk to the end of the car ride, your puppy will start to learn that not all car rides end at the vet!
Socializing your dog to new surfaces
It is a great ideas to gently expose puppies to all different types of surfaces and flooring. You want your puppy to learn that new = fun and safe. Grass, dirt, wood, concrete, wood chips, and metal are all great surface options to introduce your puppy to. Don't forget to have your puppy experience all of these surfaces when they are wet from rain and also at night too!
Don't let the pandemic stop you from safely socializing your puppy! Need help getting started? We are offering Zoom lessons for puppies and dogs and we'd love to help you with your pup!
About Pepper's Paws Dog Training
Pepper's Paws, LLC provides in home dog training for basic manners, behavior problems, and fear aggression at the Delaware Beaches – Rehoboth, Lewes, Bethany and surrounding areas. We also offer remote training via zoom for dogs and owners who do not live in our service area.
Head trainer Deb Murray, is Certified Canine Behavior Consultant (CBCC-KA) and Certified Professional Dog Training (CPDT-KA) by the Certification Council of Professional Dog Trainers, a Fear Free Certified Trainer, an AKC Evaluator, and a Distinguished Graduate and Mentor Trainer for the Catch Canine Academy.