We are so happy we found Deb from Pepper's Paws to help our dog (and my husband and I) get adjusted to life with a newborn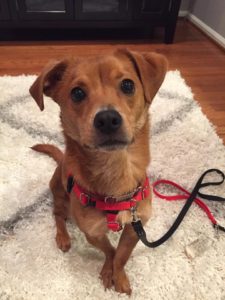 baby. Deb was very understanding of our needs and goals. Our dog was super stressed and high strung before Deb came into the picture. I was very emotional and upset when our dog did not adapt to the baby as quickly as we had hoped. Deb's calm demeanor, flexible approach, and nonjudgmental communication were very much appreciated and worked wonderfully for our family. Our dog is so much more calm now and unphased by the baby. I also appreciated all of the follow up and educational materials Deb provided after each of our training lesson so we have something to reference moving forward. Would definitely recommend Deb to everyone!Devon, Tanner's momgetting ready for a baby training Downingtown, PA
Deb was a calming, pleasant force for me and my new puppy from the moment I met her. I could immediately see how positively my dog reacted to her. She also gives your support beyond your one hour training sessions with follow up emails, articles and readily answered any question or concern I had about my dog in between lessons. She was responsive to any questions even after we were through with our sessions. She really cares that you and your dog have a successful, happy relationship. Shari, Mia's mom new rescue dog training Downingtown, PA
We are so grateful to have had Deb's help these past few months. As new puppy owners, we were overwhelmed and frankly, a little over our heads with our new little guy! But Deb was patient and calm with us, our kids, and our puppy, and we have seen such amazing progress. We got so much out of our training sessions as well as from the information that Deb would send us at the end of our sessions. It was so helpful that she provided resources that reinforced what we learned during our sessions, and she also made herself available in between sessions (and beyond!). Cannot recommend Deb and Pepper's Paws highly enough to new puppy owners, especially those with small children! Renee, Hollis' mompuppy training Malvern, PA
Deb is a patient, encouraging, and knowledgeable trainer. She listens to your dog's needs and takes them into consideration when planning the sessions. Throughout training, we had access to a lot of support, resources, and information that we could refer back to in between sessions. Deb is flexible with scheduling as well. We have seen a lot of improvement in our dogs since starting our training sessions and we know that with continued work, we will see even more of the benefits of working with Deb. Do not hesitate to reach out to her! She is very willing to help and truly wants to see you (and your dog) be successful! Katelynn, Ryder & Tyson's momreactive dog training, rescue dog training Exton, PA
We couldn't be more pleased with Deb and Pepper's Paws! We signed up for 3 private lessons and by the end of the first session it was like we had a new pup! She really takes the time to get to know you, your environment, and your pet and come up with a plan that will work. Deb's training is positive, informative, and fun and we highly recommend her to anyone! Lia, Remy's momreactive dog training Eagleview, PA
I am 40 years old and never had a dog before and had no clue what to do!!! My 3 kids wanted a dog for Christmas so of course we go them one. I was referred to Pepper's Paws (Deb) by 2 of my friends. SHE IS AMAZING!!! I had no idea how to handle a dog, train it, potty train it, etc… she was so hands on and really got my son involved too which was awesome to see! We are all doing well thanks to Deb and her training, I truly can not thank her enough! If you ever need a dog trainer, you NEED to go to Deb at Pepper's Paws, she is like no other! She gave me the confidence I needed to!!! I didn't think I could manage my household, kids, and a puppy but she was always so encouraging! I am referring all/any of my friends that get a dog to Deb!!! Lastly, she responds so quickly to to texts or emails you send to her with questions which was so helpful as well!!! SO LUCKY we go to train with Deb! Caroline, Rocky's momnew puppy training Downingtown, PA
Deb has been training our dogs for several weeks. Our puppy is a rescue and I have three young children so we really needed our help. Deb is extremely patient and geared our training specifically for us. She is great working with the kids, incorporating them into the training, providing us solid educational tools also for the kids and our dog. Our dog has been extremely responsive and is doing better than we ever expected. Deb is a professional and knows her stuff! We couldn't be more pleased with Deb as a person, her instructional advice and the important lessons she's been teaching all of us! Toni, Zelda's momnew rescue dog training Malvern, PA
I would highly recommend Deb Murray to anyone looking for a phenomenal dog trainer !! Deb is extremely knowledgeable and passionate about training and my wife and I could not be more pleased with how far our pit rescue has come after a training session !! Thank you !!Brian, Kaya's dadnew rescue dog training Downingtown, PA
Only thing that could have been better would be Deb to have a magic wand to make my puppies house trained. I will continue with Pepper's Paws once the pups are better house broken. Highly recommend this trainer!Glenn, Piper and Penny's dad new dogs training Downingtown, PA
Helped my pups get along
"I originally called Deb to help introduce my new puppy to my territorial female pit bull and pug mix. She was thoughtful and kind listening to my fears and respecting how I treated my dogs. She immediately helped with simple tricks to harmonize my pet family with group walks and outside play. My pit had failed out of doggie kindergarten and never learned down. Deb made a believer out of me when she got her to learn down and the training time seemed to make her happier. A lot of trainers tell you their way to handle your dogs with no respect for the things you already do well or your preferences in discipline. From the beginning, we were all comfortable and her suggestions worked. I have learned a lot and so have my pups. Our whole household has learned to ring bells after a few hours. Deb has been supportive and thoughtful. You wouldn't even recognize my "ferocious" Mia on a walk now. I would recommend Deb to everyone with any dog training needs. You will never regret a session with her."
Nicole, Mia, Bubba, and Phantom's mom
puppy training, rescue dog training, reactive dog training Chester Spring, PA
One month in, and I am seeing what the potential of my dog!
"I have tried different trainers and suggestions before, but found that my dog did not understand the training or retain these skills long term. I was given Deb's name by a friend, who had a great experience with Pepper's Paws. From day one, my dog (a European blood-line German Shepherd) responded amazingly to Deb's method of training. Her approach, professionalism, and custom training really gives you the best opportunity to succeed.
The best part? The coaching does not stop at the end of the session. Deb goes out of her way to answer any questions I have with training and does a recap of our training sessions. Prior to working with Pepper's Paws, I only felt like I was utilizing 50% of my dog's training ability. I have seen him much happier, much more engaged, and much more obedient. If you want results in an environment where it is easy to understand and emulate, then Deb will not disappoint."
Jon, Yager's dad, new dog training Chester Springs, PA

Great help training our dog!
"Deb did an excellent job helping us with our dog Marty. She answered all our questions and showed us many ways to improve his behavior. I highly recommend Deb to anyone who needs a dog trainer."
Darby, Mary's dad, obedience training Chester Springs, PA

"Deb did a terrific job teaching me and giving me confidence to handle and continue working with my pup. Will definitely be calling on her in the future! Thank you Deb!"
Joyce, Buster's mom, obedience training West Chester, PA

"Deb intuitively knows dogs. We rescued a lab mix puppy who was extremely shy and had several corrective habits that needed addressing, as we have 4 young children at our home. Deb came to our home on 3 occasions and worked in depth with our whole family. She taught us how to deal with our puppy's corrections, instructed us to hand-feed him for a while (which I truly believe made all the difference!), taught our boys several training techniques (which empowered them, a good plan for boys and the dog) and generally helped us make our dog's behaviors work perfectly within our family dynamic. We feel like we can understand our dog at a much deeper level than we ever could have without Deb's help; she is uniformly positive and patient, and committed to helping dogs become a cherished part of the family. We are so grateful for the gift she gave us — a sweet, well-behaved, and loyal pup!"Emily and Kevin and the boys – Nash's familynew rescue dog training Newtown Square, PA
"Deb is an excellent dog trainer and especially wonderful with kids and families. Unlike other trainers we encountered, Deb has a natural way to engage children and encourages them to be active participants in training. She's a patient teacher, speaks calmly, and appropriately guides your children to get the desired result. My kids felt very comfortable with Deb and easily took direction from her. We are so pleased with our dog's progress and all we learned from Deb."Amy & Rob, Tucker's parents new puppy training Downingtown, PA
"I can't say enough about Deb and Pepper's Paws, and I recommend them every chance I get, but I wanted to share my thoughts with anyone looking for help with their dog. I recently rescued a 10 month old puppy, and while I grew up with a dog, Maxie is the first I have had on my own and she turned out to be more than a handful. I was in over my head, she was jumping and biting non stop. Someone had given her up before, and I was starting to understand why. I wasn't ready to give up on her, but I was overwhelmed and didn't know how I could care for her. My vet recommended Deb, and it turned out there were classes starting the very next day, so I signed up immediately! Maxie was really quick to learn the commands she learned in class, but after going home, she turned back into the crazy dog. Deb was quick to respond to my emails with help and advice, but I quickly realized I needed the in home training she offered.
Allowing Deb to see how Maxie behaved in that setting allowed her to really understand the root of her problems. The improvements even after just a few days following Debs advice was astonishing, and now after a couple months, she is a different dog. She still has her moments, but overall she is a sweet, fun, loving dog. Its a daily task of training her and sticking to the advice I got and continue to get through the group sessions (I decided to continue with the level 2 class) but as things become habit for me and Maxie, its just that much easier. I think back to how things were and am so thankful I found Peppers Paws! Deb and the rest of her team are clearly passionate about dogs and want you and your dog to be successful!
Thank you!"Molly, Maxi's Momnew rescue dog training West Whiteland, PA
"Deb is the best !! She has helped us twice now with in home training. Shes very patient and kind, with the humans and animals!! Ive also taken her puppy class at Dogtopia, and her and her assistants were great ! My dogs all love her as do we ! Thanks so much Deb!!!"Beth, Gremmie, Boo, and Griffin's Momnew rescue dog training Phoenixville, PA
"We can thank Deb Murray enough for all her help, assistance and training with both of our three year old labs. The guidance and training methods are wonderful and completely force free and Deb is very knowledgeable, patient and kind. We recommend Peppers Paws and Deb Murray every chance we get. Changing the lives of dogs and their owners one class at a time.Debbie , Murphy and Kelsea's Mom new lab retriever training Rehoboth Beach, DE
"We adopted a lab/shephard mix this past April from a rescue. He was 8 weeks old and a few weeks after we brought Jet home, he started exhibiting a lot of behavioral problems beyond those of a typical puppy. He was biting us and others and we started questioning whether we can keep this dog; my son was 8 years old was scared to be around him. We started referring to him as Cujo.
A friend suggested Pepper's Paws and we scheduled an appointment with Deb. She spent a lot of time getting to know us and the issues we were having with the dog. After 3 training sessions, it was like we had a brand new dog. He stopped biting and became a pleasure to be around. He now sits with us on the couch and my son loves to play with him.
If you have a pet and feel like things are hopeless, call Pepper's Paws. You won't be disappointed." Ilisha, Jet's mom new rescue dog training Royersford, PA
"We first met Deb at a volunteer event for To Love a Canine Rescue. I was so impressed with her, we asked her to help us with our Bear and signed up for three in home private lessons. Deb is professional, knowledgeable, and offers REAL solutions to helping YOU be a better dog parent. She teaches you how to help your dog get along better with everyone and everything, both in the home and in public! The prices are very reasonable and we saw results after just one lesson when we continued to follow through with her instructions. We owe huge thanks to Deb for helping us with our crazy Bear. She even went outside the box a few times and helped us with issues we didn't even think to ask about! I highly recommend Pepper's Paws!"Debbie, Mom of Molly, Bear, and Finnnew rescue dog training Coatesville, PA
"Hi, Deb – I just wanted to thank you again for all of the help you have been to us with Gibbs. When he came to us in March as a 3 1/2 month old puppy, we were overwhelmed and at a complete loss for how to handle him. He and our 4 year old were not getting along, and he was regularly biting us and chewing all of our belongings.
I spoke with someone from another agency for quite sometime about getting help, but I never heard back from the trainer she recommended within her group. We were desperate, and you picked up the phone the FIRST time I called! You came over the next day, and we were immediately on the road to a happy family again.
You seem to have a natural understanding of how dogs think, and you gave us the skills to teach Gibbs how to behave. Training has been a lot of fun, and Gibbs enjoys it, too!
Thank you again SO much for your help and enthusiasm and encouragement. We would not be where we are now without you!"
Priscilla, Gibbs' Mom
puppy training Exton, PA
"Deb has been a wonderful trainer for our new golden puppy. Her joyful enthusiasm and calm demeanor immediately put our puppy at ease. She genuinely cares about training, and wants what is best for you and your pet to enjoy one another. I am so glad she was referred to me, as our puppy has quickly become a loving addition to our family."Elizabethnew puppy training Chester Springs, PA
"Deb and her team are the best! Can't recommend highly enough. When my family and I adopted our first dog we were completely clueless and a bit overwhelmed. We met Deb at the adoption event and she gave us some great advice and even talked to us on this phone and via email once we got our dog home. We signed up for a class immediately and the whole family learned so much. We loved the practical instruction and have applied EVERYTHING we learned in class on a daily basis. We've now completed the 2nd level class and plan on signing up for level 3 and agility. Thanks, Deb, for helping us in our new life with our fantastic pup!" Amy R, Fred's momnew rescue dog training Phoenixville, PA
"My family and I could not be any happier than we have been with Deb and her assistants. Our active Golden Retriever is more than two hands-full, but Deb and her helpers are gentle, caring, and patient, as my family and I are learning to manage Cody's energy. We hope that as he matures, he will settle a bit, but until then, Deb works with us to guide our very smart puppy to making the right behavior choices. Thank you!"
Tracy B, Cody's mom, new puppy training Exton, PA

"I highly recommend Pepper's Paws! Deb and her assistants Eryn and Diana are very knowledgeable and very easy to work with ! My Vizsla Copper has benefitted mightily from Manners 1 & 2 classes taught by Deb and crew. Deb and her staff know how important it is to have a well trained dog and have the tools to teach the dogs and the humans how to interact and communicate better. Deb was even able to teach my 9yr old daughter how to get Copper to listen to her!!
Worth every penny – thank you so much !"
Todd M, Copper's dad, obedience training Downingtown, PA

"We met Deb at an adoption event for TLC Rescue when we adopted Hardy (a puppy). We were so grateful to have made this connection. Although we have had dogs/cats for years, we forgot what it was like to have a puppy again! Deb was a great guide with puppy training, house breaking/crate training and introducing a puppy to existing pets..even came to the house to help us!…We took Hardy to Peppers Paws for Training…Deb and staff of trainers gave us great guidance and tips…Hardy is 5 months old – he now knows basic commands: sit, down, off, leave it and wait (stay). Because of Debs' (and staff) guidance we have even taught him high five and are working on wave! We are looking forward to continue his training in the next course!" Andrea K, Annie & Hardy's momrescue dog training West Chester, PA
"I became acquainted with Deb Murray while I was in between dogs and volunteering with animal rescue. She is very knowledgeable, has a positive training approach, and is passionate about working with dogs and their owners.
When we adopted our dog and wanted to address some issues, there was no question that we wanted to work with Deb/Peppers Paws. First we had a private training session at our home tailored specifically to our needs. She patiently answered all our questions (there were many), never made us feel rushed and gave us so much helpful information and offered support if any questions came up later. One of our main concerns was teaching our dog to not chase our cat. She showed us how to work with both animals and encouraged us to stick with the training – and it worked!
Training is an ongoing part of our life and our dog looks forward to it. It's a great way to bond with your dog while teaching good manners. Which reminds me – we also took Deb's group training class – another great experience. Class sizes are small, there are two wonderful assistants (Erin and Diane), and you can ask questions about issues that come up at home during the week. Our dog loved the class, and being there with other dogs and people helped her with socialization."
Andee S.
new dog training Glenmoore, PA
"Deb is incredible. We have a 14 month old lab pup who listens to me and is very good at understanding that I am his master. He ignores my wife most all of the time. It is a point of frustration for us and has cause some friction in our relationship.
Enter Deb Murray and WOW!. She talked to us for about 45 minutes before we did anything. She ask us what the issues were with Jack, and how they were issues. By the time we got to some training, she NAILED it with Jack. My wife and I have very different styles when it comes to dog training. I have trained several dogs over the years and Jack is my wife's first puppy. She said she did not have confidence and was actually afraid of Jack. He was like Jeckle and Hyde. With me he is a gentlemen, and with her Jack is ( I mean was) a maniac.
We we did about 65 minutes of training including parking Jack and walking jack. At the end of the session we could see my wife's confidence brimming over and Jack being a gentleman with her like he is with me. Deb gave us a few exercises to do with Jack this week. We introduced a Kong product that has entertained Jack while we are away at work. "
Dave O, Jack & George's dad, new dog training Downingtown, PA

"We have an 8 or 9 yo Lhasa mix and recently moved from a large single family home to a condominium. Motzart started barking incessantly every time the both of us left the condo. And I mean it was non stop and sounded like he was really stresseed, scared or something. You could hear him all over the building. In my infinite wisdom I purchased a no bark collar. Well he didn't bark but started peeing in the house. Deb was recommended to us by Dogtopia as a trainer and behavioral consultant . Deb came to our home, listened to use (unlike other trainers) and came up with several suggestions. We have implemented most all of her suggestions and we are making progress! I would highly recommend Deb for any training needs or behavior problems. We were extremely pleased. Wish I could write more! She followed up the next day with an email summarizing the visit and gave other sources of information. We had a few questions which she answered promptly. Deb has been in contact as needed. Deb is a great resource and most importantly, a nice person who loves animals." Nancy & Barry, Motzy's parentsEagleview, PA
"I have a 1 year old Aussie that had been through basic puppy training, but needed something more. Unfortunately, I just didn't have the time to be able to train her properly. That's where Deb came in. While Sydney was in doggie day care, Deb spent some time 5 or 6 days in a row with her, reinforcing the basics, some safety lessons, and general behavior.
When she came the following weekend to go over what she had taught her, I couldn't believe it was the same dog! She was doing things I couldn't get her to do in class or any other way. Deb went through all of the training, provided follow-up materials, and showed us (as opposed to just telling us) how to continue to reinforce what she has learned.
Well, not that we are in the reinforcement phase, it's easy to keep things moving ahead. Sydney has been great with what she learned, and I feel confident with the reinforcement suggestions Deb had that she will turn into the great dog she is destined to be.
Thanks, Deb. I'm sure we'll be back at some point for some more advanced training."
John C, Sydney's dad Eagleview, PA

"Pepper's Paws is simply fantastic! Deb and her assistants are friendly, super knowledgeable, eager, and willing to help find a solution to any problem you may be facing with your pup. In a group setting they will take the time to work with you & your pup 1 on 1 if needed. No question goes unanswered. No accomplishment goes unnoticed. Pepper's Paws genuinely cares about each individual case that comes across their path. They provide a comfortable and positive environment which ensures your pup will have the best possible outcome from a training session. You can really tell that Deb & her assistants love what they do and that they're passionate about their work.

I have a 11 mo old puppy that had a major jumping problem – Deb & Eryn were able to correct it in 1 session. Now, instead of becoming insane and out of control with excitement anytime someone even looks in his direction he has learned to sit or lay down (tail still going a thousand miles an hour) so he can be petted. He also learned "leave it" which has saved me (and him) from some potentially nasty situations where he could have eaten something bad.Go check out Pepper's Paws! You will not be disappointed."Amanda H, Dodger's mom Downingtown, PA
"My husband and I are expecting our first child very soon and we had some concerns about how our young dog would handle the transition. Deb was able to come to our house for training sessions which she geared toward the particular situations our dog would encounter with the new addition to our family (e.g. unfamiliar toys lying around, breastfeeding concerns, ensuring our baby's safety, strange noises, etc.). She was absolutely amazing. She left us feeling safer and more confident about our dog than I would have imagined possible. Deb understood our worries as first time parents and I wouldn't hesitate to recommend Pepper's Paws to anyone looking to ease such a big transition for the furry, tail wagging members of their family." Elizabeth D, Hick's momDowningtown, PA
"Deb is an awesome dog trainer!! So patient and knowledgeable. I definitely recommend her!" Teresa H, Max's momDowningtown, PA
"After the first two private sessions we could not be happier to have chosen Deb to work with us and our dogs. We hired her to help us train our golden doodle puppy which Deb does with patience, great knowledge and such a positive attitude. But not only is she adjusting to whatever needs we and our puppy have, she also took interest in our older dog who is more on the fearful side and has always had anxiety problems. After just one session with Deb and practicing what we had learned, we saw improvement in the behavior of both of our dogs. The sessions are fun and educational and we definitely plan on continuing working with Deb in group classes in the future. Deb is certainly taking time to work with us and the dogs and has given us many tips for our dogs which definitely go beyond and above normal dog training. Highly recommended!" Susanne U, Tara and Tessa's momPottstown, PA
"Outstanding. Simply…what she does works and works well. Wish I knew about her for every dog Ive had!" Tracey P, Sailor's momChester Springs, PA
"We recently met with Deb for her Perfect Match service. Deb is extremely knowledgeable and clearly passionate about what she does, no question is too big or small. Deb's genuine interest and candor created an atmosphere where we were able to have an honest and productive discussion about what we are looking for in a dog and how to find that him or her. She also provided helpful information about how to introduce and acclimate your pooch to their new home. I believe Deb truly cares about each client and her dedication and ongoing support has been invaluable. This was the perfect way to get started finding our new family member and we consider it time and money very well spent." Sarah F, Quinn's mom West Chester, PA
"Deb was incredible! She offered so much guidance, information, and support to my boyfriend and I about our new hound puppy. I truly felt that she cared and went above and beyond what I ever expected for a trainer. Never did I feel that she was nickel and diming us. She stayed past the time she told us, offered text and email support, sent tons of reading materials and follow up info, and very clearly cared for us and our pup. Every training session was clear, user friendly, and consistent, and she never hesitated to answer our questions. In 3 sessions our dog made such progress and now we have the tools to continue Deb's work. We're so thankful for her help and would recommend her to anyone who needs a trainer!" Christina L. Ellie's momWest Chester, PA
"I have to take this opportunity to sing Deb's praises!When Deb started in-house training at Dogtopia with my 1 year old coonhound/lab mix Bella, she was faced with a dog who was very unsure of herself. Bella's nervousness made her reluctant to trust strangers and also made it very difficult to keep her attention for even a few seconds.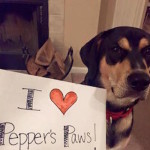 Deb was extremely patient and endlessly positive with Bella. Most importantly, Deb didn't give up on my dog when I'm sure other trainers would have. Deb not only taught my dog the basic but necessary behaviors (sit, stay, come, wait, watch) – she taught my dog to TRUST people besides her "mom and dad", and taught me how to reinforce positive behaviors with my dog by keeping her engaged yet relaxed.
Bella is a happy and confident dog thanks to her "board and train" sessions Deb… And I am an extremely proud and grateful dog mom! My investment in Bella's training was 110% worth it.
Bella and I cannot wait to sign up for the Level 2 Advanced group class! From the bottom of my heart, THANK YOU DEB!"
Kate M – Bella's mom
Paoli, PA
"Deb was fantastic ! She gave us so many great tips for working with our new puppy. It was so nice to be able to be in our home environment, with all of our family that would be working with our dog . I feel like that aspect of her services will make it much easier to train our puppy consistently!" Elli's momPhoenixville, PA
"Working with Pepper Paws, LLC at Dogtopia was amazing! Our 6 month old puppy is high energy and he was having difficulty listening. As first time dog owners, we were out of our element. Both Deb and Eryn taught us very easy to understand techniques and we could see improvement almost immediately. It was important to us to find someone that was compassionate, understanding and non-judgmental. We nailed it!" Cathlene H – Bentley's momDowningtown, PA
"Deb was quick in her response and follow up conversations. She worked with our schedule to meet within the week. She was very knowledgeable and offered great insight. We love her positive approach to training and look forward to continuing our training with her." Karen F, Downingtown PA
"I couldn't be happier with Deb and her training methods. She is adored by my dogs and everything she has taught us has been learned quickly, easily and, most importantly, painlessly (on my part!).Deb practices positive reinforcement in word and deed. I highly recommend her to anyone who has a dog in need of either tip to tail training or just a little smoothing round the edges.I especially recommend her to people who don't understand dogs and simply want someone to train their dog — Deb won't do that — but she will train the dog AND the owner. Which guarantees a happy partnership with your pooch!" Laura S. West Chester PA
"Deb is awesome! From the moment she walked in I felt like I was with an old friend. My dogs LOVED her and her techniques were gentle but assertive and the difference in the first hour was amazing. We have had worries and difficulties with our rescue dogs for years and thought they were hopeless and impossible to fix. Thanks to Deb, we are so encouraged that they can learn new behavior. Our dogs are 5 and 6 and even at their age Deb assured us we can help them. She was so kind and thorough and encouraging to the dogs and us. She explains things in such a simple way that makes sense and helps you see things from a different perspective. I can't wait until she comes back and keeps helping us! My doggies are already loving what they learned and so are we! Thanks Deb! AmyT, Exton PA
"It was absolutely amazing. My dog Roxy responded so well to everything she learned and we got wonderful information on how to train her. She always jumps on you when you first come in and after just one session with deb I came home last night and Roxy jumped up I turned away and she immediately sat down and waiting where normally she would just keep jumping up and down. She has the touch down perfectly already, she immediately bumps her nose and will even jump up to bump it if we put our hand in the air above her. Its amazing how much she is learning already. Kat B. Ludwig's Corner PA
"Deb has been working with me and our now 5 mo old golden retriever. He is our family dog, but she is helping me reach benchmarks in anticipation for having him certified as a therapy dog once he becomes a year old. She has such a calm, positive demeanor and her training techniques work!!! Highly recommended for all your troublesome dog habits, but also for training before they develop them."
Keena H. Pottstown, PA
"I started working with Deb last Summer when one of my 11 year old dogs started being destructive when I left the house. Deb helped me figure out what was causing her behavior, put together a plan for me to follow to reduce my dog's stress when I left, & increased her exercise levels so she was more relaxed overall. Deb works with my dogs once a week now & they are always so happy to see her. She is patient with them & it is evident that she enjoys working with them."
Sandy G. Exton PA

"Deb does wonderful with dogs.. My rescue was afraid of everything and Deb is helping us work through our leash reactiveness. I used to use a prong collar (much to my dislike, but was oly thing I could sort of control dog with) and now we use a harness. Seems to work better and I feel much better about not hurting my dog. She uses only positive techniques and for a dog that is afraid of even the sound of a clicker, this is the only way to go. We have made great progress and look forward to having a well balanced dog. Highly recommend her!!!! Thanks a million Deb!!" Brenda L. Downingtown AP

"Dear Deb – One day I got a FB message from you saying you were going to offer training and was anyone interested. While I loved my 6 month old puppy he was a hand full! I was a new dog owner and not exactly sure what I was doing with him. And how to get him to listen to me, he is very hyper and excited and its hard for him to sit still long enough to learn anything . Before the training even started you gave me helpful hints and ideas to use and now he has three training classes under his belt he is like a different dog ! I am so grateful that I decided to take you up on Sammy's training .
Sammy is no longer "untrainable" he AND I have learned what to do and how to do it. He is well on his way to becoming a good "canine citizen"
no matter what behavioral problems or new tricks we want to learn with Sammy , I always appreciate the fact that you are creative and thoughtful in your strategies and respectful of how I feel towards Sammy's eduaction.
Sammy loves his training classes and loves to be around you, that in itself is the best endorsement any human can get ! Thanks so much for your passion and support!
sincerely
Angela and Sammy"
Glenmoore, PA