Back to school time for kids is just around the corner. Time for new schedules, new routines, and new rules – for kids and dogs too.
From a dog's perspective, back to school time for the kids can be boring, lonely, and downright scary for some dogs. Their days may go from kid action packed, to long stretches in the crate and without their people. This can result in destructive behavior, resurgence of the jumping behavior, excitable dogs that need an energy outlet, and other not-so-fun behaviors for dogs and their people. Here are some tips to help your dog settle into a new back to school routine.
Establish the back to school daily routine.
Will your dog's day be spent in a crate while everyone is at work and school? Will this alone time start earlier than usual, now that the kids are off to school instead of day camp? Take your dog on a walk, off property and on leash each morning.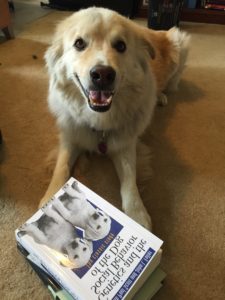 While on the walk, let him sniff and explore a bit – this will help tire him out more than just a normal leash walk. A daily morning walk can do wonders to prepare your dog for a long nap in a crate while you are gone.
Training, which is a form of mental exercise, is a great way to start your dog's day too. Instead of just putting a bowl of food down for your dog, have her to Sits, Downs, Touches, and anything else she knows to earn her kibble. This is also a good time of year to add to your dog's behavior repertoire – teach your dog to Spin, Roll Over, or any other new behaviors that you can cue and then reward. Learning dogs are happy dogs! Your dog's dinner time is another great opportunity to build training into your dog's day – and you will be surprised how little time this actually takes at each meal!
After school, don't forget your dog has been home all day and would love a walk! Schedule a family member to walk the dog everyday and both the walker and the dog will benefit from the exercise.
Once you decide what the new house routine will be, put it into effect NOW before the back to school routine for the kid's starts. By giving your dog a few weeks to adjust to more crate or alone time and a different walking and training routine, the less he will be bothered by the change for the new school year. This will also help the family adjust to more structured time with the dog too!
When in doubt – add more exercise!
If you come from a long work and school day to find that Fido redecorated the family room on you (meaning he chewed shoes, emptied the trash can, otherwise got into trouble), a dog daycare or daily dog walk with a dog walker may be in order. Dogs left to their own devices can sometimes get into trouble, giving them a few days each week out with other dogs or dog walkers can be a great boredom buster and exercise outlet.
If you come home to chewed windowsills, damaged doorway trim, housebreaking accidents in a normally housetrained dog, it may mean your dog has separation anxiety. Contact Pepper's Paws for a separation anxiety evaluation.
Back to school time can be exciting, challenging and stressful for families and dogs. The best way to ensure everyone adjusts to the new school year is to have a plan. Do you have your back-to-school plan yet?
Pepper's Paws, LLC provides in home dog training in Rehoboth Beach, DE and surrounding communities. We also Zoom dog training lessons for people who do not live in our Delaware Beaches service area.
Head trainer Deb Murray, CBCC-KA, CPDT-KA is certified by the Certification Council of Professional Dog Trainers, an AKC Evaluator, a Doggone Safe "Be a Tree" Presenter, and a Distinguished Graduate and Mentor Trainer for the Catch Canine Academy.