2016 is here – what are your New Year's Resolutions? What do you have planned for your dog?
Every year many of us make New Year's Resolutions – to lose weight, exercise more, read more, watch less TV – the list is endless! As you make Resolutions for yourself, how about some for your dog? Training goals, one-on-one sessions, getting involved with dog sports, taking a group obedience class (or getting to the next level) are all great ways to get you and your dog moving and enjoying each other's company like never before! We at Pepper's Paws have some dog related goals and plans we'd like to share with you – and perhaps even inspire you too!
My family has 4 great dogs – and they don't know it yet, but I have big plans for them in 2016!  We just added an Agility for Fun 1 class – click here for more info.  All 4 dogs will start to learn some basics of Agility.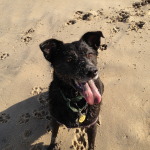 Pepper:  Pepper is ball crazy and loves to play. Pepper started learning the Agility jumps today and had a blast!  She is about 10 years old but don't let her age fool you – this year in addition to starting Agility and my goal is for her to finally get her Intermediate Trick Dog Title from DoMoreWithYourDog.com  (Stay tuned for more on Trick classes this year).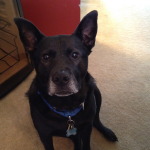 Shadow: Shadow isn't quite as nimble as Pepper, but he will do anything for food.  We are going to work to improve his excitement when he sees other dogs and increase his overall activity level through Agility! Shadow already has his Intermediate Trick Dog Title and he'll start on his Advanced title this year!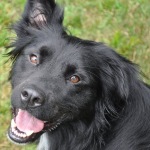 Bear: Bear is going to learn to do Agility as well as Nosework (Pepper's Paws is planning to offer a Nosework class this year – look for more info on this soon!) And Bear will be helping me with private lessons – he is a calming influence and is great at not reacting to reactive dogs.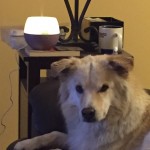 Sammy: Ah Sammy, my fearful, reactive, unsure little guy!  He is going to do Agility in private sessions with me as well as Nosework, and you may even see him attend a group class with us too! Sammy is already working on his Intermediate Trick Title.
Pepper's Paws has new series of Agility for Fun classes and programs to kick off 2016.  We have tricks classes, dog sports training classes, advanced obedience and K9 Fit Club (for people and their dogs to work out together) planned for later this year. Click here to see our complete list of our next round classes. Will any of these classes and programs help you and your pup achieve your New Year's resolutions? We hope so. What are your New Year's Resolutions? Tell us in the comments below!
Pepper's Paws, LLC provides in home dog training in Rehoboth Beach, DE and surround communities. We also offer dog training programs for basic manners and behavior modification via Zoom.
Head trainer Deb Murray, CPDT-KA is certified by the Certification Council of Professional Dog Trainers, an AKC Evaluator, a Distinguished Graduate and Mentor Trainer of the Catch Canine Academy, and Certified Fear Free trainer.